Spiral Fittings, Inc Specializes In High-Quality Spiral Ducts
Our Galvanized Spiral Ducts Mean Longer Life And Maximum Durability
Our precision made spiral ducts not only look good and take up less space but could also save you money. HVAC systems with spiral ducts are virtually leak free saving you energy. This also provides for a quieter overall system. A round duct with no leaks also requires less filter changing and noise due to stabilized pressure changes. Spiral ducts look great in open ceiling plans and give a pleasant aesthetic quality to any office. Call today to find out about all of the benefits from spiral ducts. 
Serving Our Valued Customers Since 1978
Spiral Fittings Inc. is a yellow label union manufacturer of quality stamped and spun component parts for the heating, ventilation, air conditioning, and other related industries. We are family owned and operated and have been servicing the industry since 1978. We are a fully equipped sheet metal operation that can address custom applications as well as our complete line of mass produced HVAC component parts for the spiral pipe industry.
Our specialty is die stamped elbows, which we offer the widest variety of sizes and various materials in the industry. We use the latest technology to produce our products which allows us to offer consistent and precise sizing and tolerances, all the while offering competitive pricing for our customers.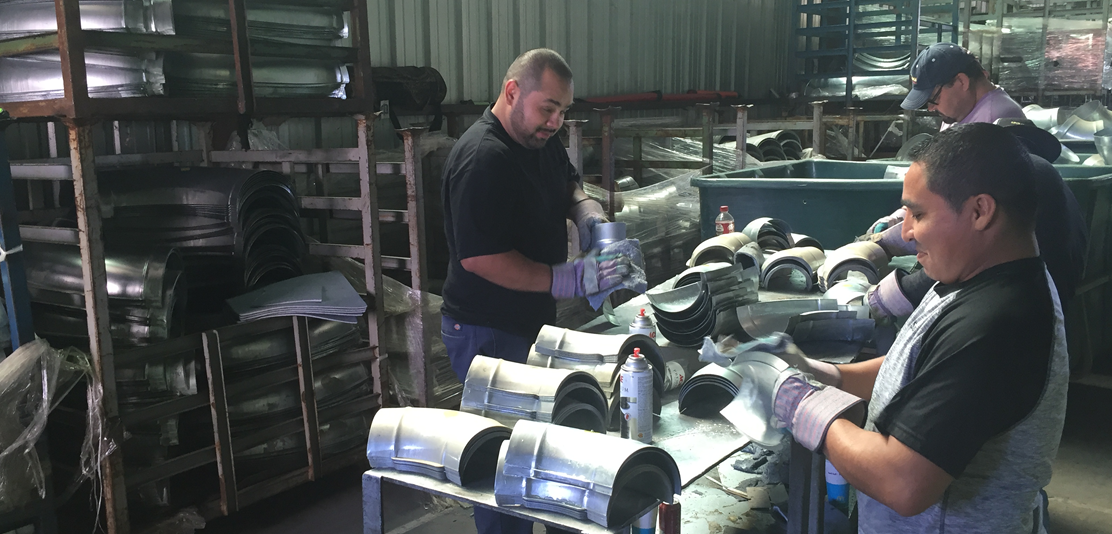 Cutting Edge Distribution Facility
We are a member of the Sheet Metal Workers, Local #399 out of Charleston, South Carolina. We employ highly trained and skilled laborers to meet the demands and lead times of our customers. Our distribution facility allows us to process and ship orders on a same or next day basis, faster than anyone in the industry.
We are located in Georgetown, South Carolina and service accounts all across the United States, Canada, Mexico and Puerto Rico. We have a very knowledgeable staff and our customer service is second to none.